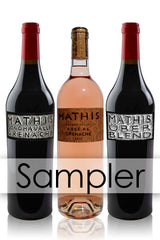 Mathis Wine Sampler
3-bottle pack
Only $82.35 at checkout with $10 shipping. Try these three signature wines from the picturesque Mathis Vineyard in the hills above Sonoma Valley!  Sampler pack includes 2019 Grenache, 2019 Überblend, and 2022 Sonoma Valley Rosé de Grenache.
2019 Sonoma Valley Grenache
The 2019 Grenache shows exquisite balance and elegance, with vibrant sweet/tart fruit characters of perfectly ripe Bing cherries and blackberries, and a hint of juniper in the finish. Aromas include bramble, white pepper and baking spices. Subtle tannins are just elevated to make the wine pair well with a wide variety of foods, from a light salmon and vegetable grill, to a savory lamb stew.
-92 POINTS, Wine Enthusiast
-96 POINTS, DOUBLE GOLD MEDAL The Press Democrat 2023 North Coast Wine Challenge
-BEST IN CLASS & DOUBLE GOLD MEDAL at the 2023 San Francisco Chronicle Wine Competition
2019 Überblend
The Überblend is a mélange of the four grapes I grow in my vineyard, headlined by Petite Sirah.  Inky black and firmly textured with aromas of pine, bramble and violet aromas, followed by an exotic whiff of tidal pool brine.  In the mouth, it pops with tangy blackberry juice and sweet black plums with a kiss of tar.  The wine's inner sweet silkiness pulls it together into a very approachable and welcoming whole with an excellent lingering finish.  
2022 Sonoma Valley Rosé de Grenache
Classically pale with a salmon hue, the Mathis Rosé is made in the Provençal style. Aromas of crushed white peaches, citrus peel and strawberries, followed by mineral and herbal notes on the palate, make this rosé wine compellingly easy to drink alone or to pair with food.   It's a rare summer evening when a bottle isn't on the Mathis dinner table!